A&W 2017 <BEAMS> | for one WEEK(s) #01_7Styles of September
September 7, 2017

STYLE GUIDE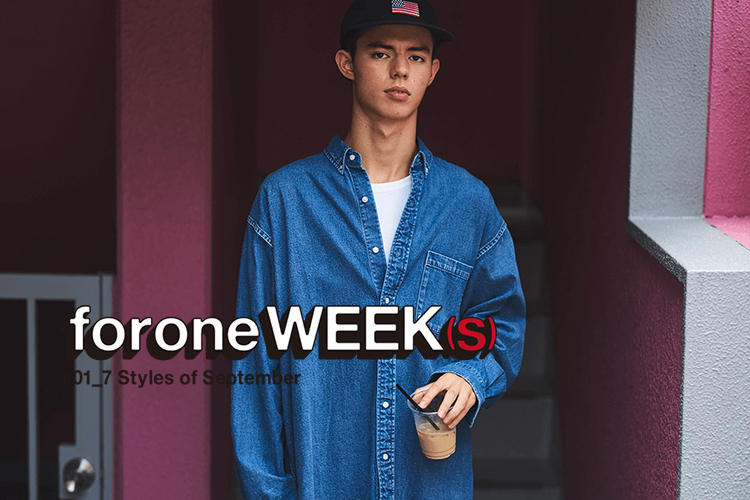 BEAMS presents A&W 2017 one WEEK(s) #01_7 Styles of September

The first of the series picks out a week in September; including the season's trends of baggy silhouettes and relaxed suits, and snatching up exciting new hot items like knitted waistcoats and layered T-shirts. Enjoy this autumn with BEAMS' freshest looks!

Starting the week in a relaxing outfit
Monday morning blues could be slightly fought away with an Iced latte...or not? How about wrapping up in a baggy denim shirt and tracksuit trousers for a relaxed tone? No one has to know that the American flag cap is mainly to disguise that bed head...

Personal easy suit style
Don a jacket for a change of pace. Instead of an uptight ensemble, wear it down with a parka and cap. Owning one proper jacket can really come in handy. Like for that invitation to your girlfriend's parent's house... that could happen anytime!

Styling around a 90's messenger bag
Wednesday morning, commuting by bus for a change and enjoying the refreshing scenery. Opt for a messenger bag instead of the backpack for a fresh feeling. The 90's sort of colour code is really fantastic.

This season's iteration of the knitted waistcoat is a tad oversized
If it's been lying in the bottom of your drawer, now is the time to pull it out. Such a perfect functional layering item, this season will welcome it back right in the loop. Pair with a long sleeved T-shirt. Roomy sizing is the key.

Friday fun of layering basics
Conceal your excitement of the approaching weekend with a simple T-shirt and cardigan ensemble. The layered effect of the double hemmed T-shirt is extremely versatile. An easy way to look on top of your game.

City-style sporty Saturday afternoon
If the excitement of the weekend triggers an early start, head to the park for a light jog. The nylon tracksuit is the perfect gear, especially when there is a shopping spree planned for after. With functionality of a proper tracksuit, this is quite a practical choice for the town and track.

The essential autumn blouson
The very simple blouson pulls together the beige tone ensemble with matching shades of cap and shoes. This blouson is sure to accompany many ensembles this season. Let's make the most of Sunday, pretend tomorrow isn't Monday!