A&W 2017 <BEAMS> | for one WEEK(s) #01_7Styles of October
October 13, 2017

STYLE GUIDE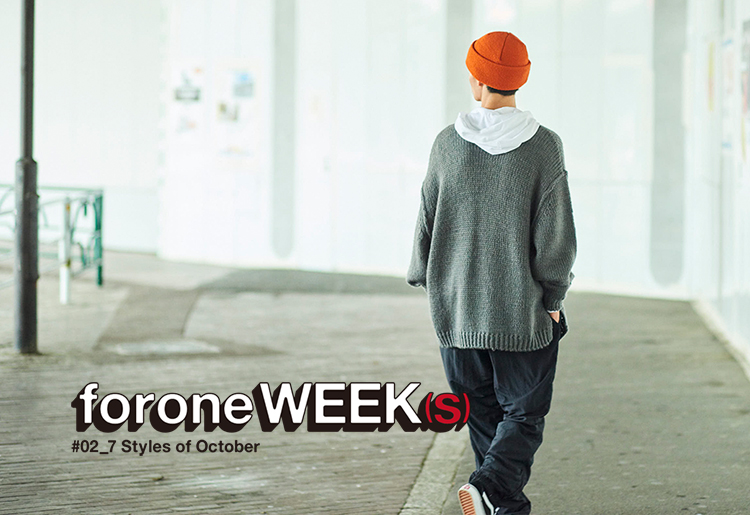 BEAMS presents A&W 2017 one WEEK(s) #01_7 Styles of October

The second of this series picks out a week in October Warm days turn into chilly evenings call for easy cardigans and outer wears. Maybe oversized MA-1s or coach jackets? Or the versatile cotton jacket? Enjoy the autumn with BEAMS' freshest looks!

A real lifter; Oversized MA-1
A quick fix to a Monday morning still recovering from the excitement of the weekend. Eye catching big silhouette and pale colour. Go casual with a parka and Gramicci's Now we're ready to face the week

Back to trads
Reconsidering the traditional shirt Layer with colourful sweats Everything in this look from the coat to desert boots Good old trad items can't go wrong That's the lesson of the day

All about loose silhouettes
Oversized knits look amazing on their own So much so they could be lived in this season Experiment layering with a parka Top it off with an orange beanie Playing with colour...

Fresh preppy touch
Single tipped jumpers are another hot item this season Go trad with a shirt Gdd a casual touch with coach jacket and beanie Would we be pushing it if we named it, maybe slightly naughty modern preppy?

Mixing fabrics of minimum colours
At the risk of sounding like a fashion mag... but mixing suede and wool give depth to a minimum colour scheme of black and grey well, all is well because the weekend is here

My jacket style. No Rules
Shame it's raining Not that that would stop me Instead of that jacket that was planned Going casual with sweatshirt and chinos Nothing beats a dose of our favourite items "huh? what rain?"

Weekend fun of mixing fabrics
Fake-fur jacket with suede boots in simple tones, can be quite the match The detachable collar makes the jacket very versatile I wish it were Saturday... I swear the weekends have shorter hours...