A&W 2017 <BEAMS> | for one WEEK(s) #01_7Styles of November
November 8, 2017

STYLE GUIDE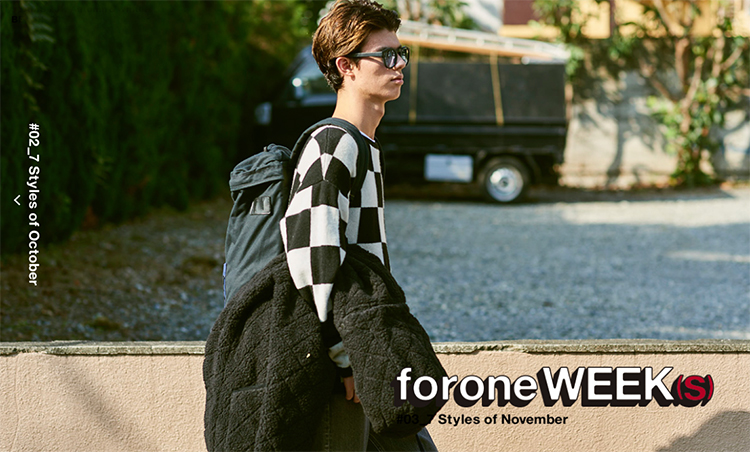 <BEAMS> presents A&W 2017 one WEEK(s) styles
The third of this series picks out a week in November. Leaves are turning colour and the days and nights are cooler, calling for nice and cosy outerwear.
This season is about Mouton coats and Borg jackets, and staple Duffels and Downs for maximum warmth. Enjoy the autumn with <BEAMS>' freshest looks!
Add some colour in your winter wardrobe
Shake away Monday morning gloom with something jolly that instantly cheers you up.
Duffle coat with wool and cashmere trousers, gloves and boots to keep out the chill.
Add that colourful jumper and we're ready to face the day.

Grey tone outdoors vibe
Just for a change, mixing greys with an outdoors vibe. We could call it a city/sports mix.
The hidden truth is that having slept through the alarm, just pulled on all the shades of grey...

A touch of purple in a sea of black
A simple and perfect way to show off the long Chester coat. Cozy with padding, you could live in this coat this winter, which is also the case with the layered black turtle-neck.Purple could be black's best friend.

A casual way with the Mouton craze!
Bring on the freezing winter days! Yes we're aware of the Mouton selection this season, and we know they can do great casual style too. Pair with the unique Gore-Tex® Clarks in the exclusive colourway that really tickles my fancy.

Monochromatic Borg and Boa style
Borg is another hot item this season alongside the Mouton. A simple black and white ensemble with checker board knit and tapered denims.
Boa® boots are so easy to pull on and off, so that's it, let's call today a Boa and Borg day.
Taming the look with knit and shirt
Saturdays are just exciting no matter what. Ready for snow with faux fur coat and Mouton boots.
Mild it down with a shirt and cable knit, perfect to hit the town.

Reversible Down jacket that suits any occasion
Picnic perfect Sunday weather a walk to the park in a yellow Down jacket.
The two colour ways can suit any mood. Lighten up those gloomy winter days.